Foot Orthotics
Posted by Orthobility Bracing on 28 February 2019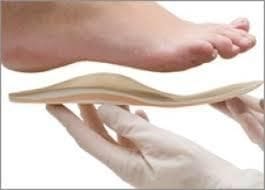 Foot Orthotics
A foot orthotic is a device that can be discretely inserted into a shoe to support, allign, prevent and/or accomodate foot abnormalities and in turn, improve how the foot functions.
Used in conjunction with the proper footwear, a foot orthotic can be effictive in helping treat a number of foot and lower limb problems , including:
HEEL PAIN
ARCH PAIN
FOREFOOT PAIN
SHIN SPLINTS
KNEE/HIP PAIN
BACK PAIN
To ensure you are getting the proper treatment from your orthotics, avoid purchasing Orthotics in the following scenarios:
1. Dispensers who do not have the capacity to modify the orthoses themselves. This may suggest a lack of training or ability to fit propoerly.
2. Orthotics purchased from exhibits, trade shows or expos. How do you get follow up , if needed?
3. Someone trying to sell custom orthotics to somoene under the age of 5 years. The body is still developing and many of the bones and muscles afected are need to develop without the assistance of a devce like this.
4. Practioners who take no interest in your footwear. the orthotic and footwear combination are very important in the final result.
5. Outlandish deals for purchasing the orthoses. 3 for 1 or free footwear with the orthotic purchase could be a result of an inferior product.
For your comprehensive and coplete foot orthotic experience, come visit us!
sales@orthobilitybracing.ca
Author:
Orthobility Bracing
About: An all-inclusive custom and off the shelf orthotic devices maker and provider. Custom Orthotics are measured and made on site in a fully equipped workshop. We are able to accommodate bracing for any part of the body.